"On The Green" - Bright White Golf Balls and Tees On Grassy Green Cotton Print Ladies Womens Golf Sports Fun Fashion Sun Visor by Calico Caps® Size LARGE/Medium

Condition: New With Tags

Price:

$25.00
​All the comfort and style of the Calico Caps' Baseball Cap . . . In A VISOR!
This style is called "On The Green".... A cool, cotton visor that's perfect for the golf course AND the clubhouse. Bright white golf balls and multi colored golf tees in yellow, red, turquoise and blue on a grassy green background. White top-stitching with dark green grosgrain lining the entire band.
* * * * * * * * * * * * * * * * * * * * * * * * * * *
This Calico Caps' VISOR is available in two sizes:
SMALL/Medium @ 21 inches is ideal for 20"-22" heads
*
LARGE/Medium @ 23 inches is ideal for 22"-24" heads
This listing is for the LARGE/Medium
All Calico Caps' baseball caps and visors are adjustable to plus/minus one inch.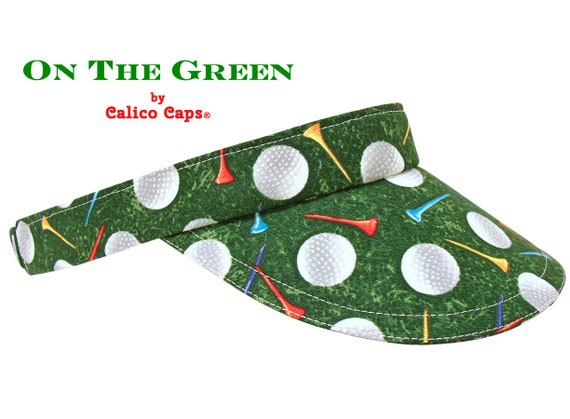 Unique to CALICO CAPS, the adjustable combination velcro/elastic back closure is encased in the same cloth as the cap and lets you adjust the sizing to plus/or/minus one inch while the elastic comfortably hugs your head at any setting for the perfect, most comfortable fit.
The brim is firm but flexible, not stiff. No hard plastic, cardboard or metal so The CALICO CAPS' Visors are machine washable too and that's a big plus. The underside of the brim is the same fabric as on top. At 7.5" wide by 3" long, just like the baseball caps, the standard sized brim is big enough to provide shade but not so big as to obscure your vision. I've been told the brim isn't quite stiff enough to hold those heavy clip-on golf ball markers.
Handmade in USA in 100% cotton fabric
Fabric is always pre-washed and pre-shrunk before cutting.
For best results: Hand wash cold, hang to dry.
Actually handmade - not a store bought visor that is just embellished or painted - Handmade in USA with pre-washed pre-shrunk 100% cotton cloth fabric - new indie designer label brand - modern day milliner millinery - Limited Edition -
No labels or tags inside for ultimate comfort - Calico Caps® branded Ultra Suede label on back - comfortable tagless -
soft brim regular bill brim - ladies womens adult unisex....no reason why a fella can't wear these - soft lightweight comfy chemo - unique fancy special event occasion - gift for golfer golfing trade show uniform - under $30 $40 $50 Anniversary - wife girlfriend mom - cute outfit - tournament team group - pro club resort cruise game national annual day
Items must be returned within 14 days .
Refund will be given as Money back.
Refund policy details:
I can send fabric swatches if you're trying to match an outfit or if you're unsure of the color. RETURNS: Accepted 14 days from date of sale. MUST be returned w/tags in original box and/or bag. Refund for amount of purchase only. Buyer pays all S&H charges to return item. Please let me know when you return an item so I can make sure to keep funds in my PayPal account for a prompt refund. In many cases Seller will cover cost to ship exchange item but can not refund initial or return S&H.
Destination: United States

USPS
First-Class Mail®
$3.00
$0.00

Destination: Canada

USPS
First-Class Mail Intl®
$10.00
$0.00

Destination: Worldwide

USPS
First-Class Mail Intl®
$15.00
$0.00
Type
Instructions to Buyer
Paypal
EVERYDAY S&H DISCOUNT - Only pay S&H on the 1st hat (per order/per address). If you encounter difficulties getting your shipping discount please contact me and I will send an adjusted invoice. Thank you for shopping Calico Caps!
$0.00(Domestic)
$0.00(International)
Search Product