Ladies - Adult: ONE SIZE FITS MOST

Classic six-panel design

Firm Flexible Brim: 7.5" wide, 3 1/8" long

Exclusive adjustable combination velcro/elastic back

Ponytail opening in back

Fully lined for lasting comfort

Machine washable and dryable

Handmade in USA by Calico Caps

Cool and comfortable, soft and flexible

Couture style! Heirloom quality!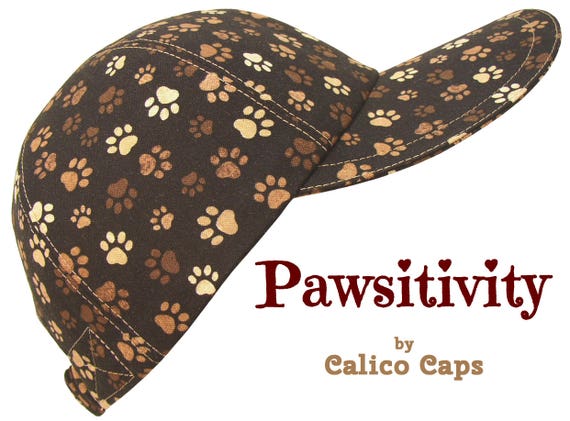 Handmade in USA in 100% cotton fabric
Fabric is always pre-washed and pre-shrunk before cutting.
For best results: machine wash cold, hang to dry or machine dry on medium.
The classic 6-panel design is nicely rounded for a more flattering look and beautifully lined in a pretty white-on-white floral cotton print for lasting comfort. Single layers of interfacing on the dome pieces give Calico Caps a soft and comfortable shape. Decorative, detailed topstitching everywhere - reinforced at stress points - CALICO CAPS are made to last!

The brim gets its' firm but flexible shape from four layers of medium-weight interfacing. It is soft and flexible with no hard plastic like mens' caps. No hard plastic, cardboard or metal means CALICO CAPS are machine washable too and that's a big plus. The underside of the brim is the same fabric as on top.
Unique to CALICO CAPS, the adjustable combination velcro/elastic back closure is encased in the same cloth as the cap and designed so that no velcro ever touches your skin. The velcro lets you adjust the sizing to plus/or/minus one inch while the elastic comfortably hugs your head at any setting. Opening in back above the velcro/elastic closure for your ponytail.
EVERYDAY SHIPPING DISCOUNT - One flat rate ($4) ships as many caps as you like (per order/per address)
MIX & MATCH - NO LIMIT!
FREE Upgrade to Priority shipping when you purchase 4 caps!
Even more information is available in the sidebar/info. section of my eBay Store.