"Polly Nation" - Parrots Parakeets Cockatoos Tropical Talking Bird Baseball Ball Cap Ladies Womens Mens Summer Sports Hat by Calico Caps®

Price:

$41.00
​

This bold baseball cap is called

"Polly Nation".....

All inclusive, this hat features all the talking birds: various parrots, parakeets and cockatoos, even cute little budgies. Rich, bold colors for a cool, pop art vibe. A great summer-time cap - it's the perfect gift for your favorite Parrotthead (Jimmy Buffett fan), bird lover, party animal or political activist. White top-stitching with black grosgrain band on the white-on-white floral print cotton lining.
Ladies - Adult: One Size Fits Most
Classic six-panel design
Firm Flexible Brim: 7.5" wide, 3 1/8" long
Exclusive adjustable back
Ponytail opening in back
Fully lined for lasting comfort
Machine washable and dryable
Handmade in USA by Calico Caps
Cool and comfortable, soft and flexible
Couture style! Heirloom quality!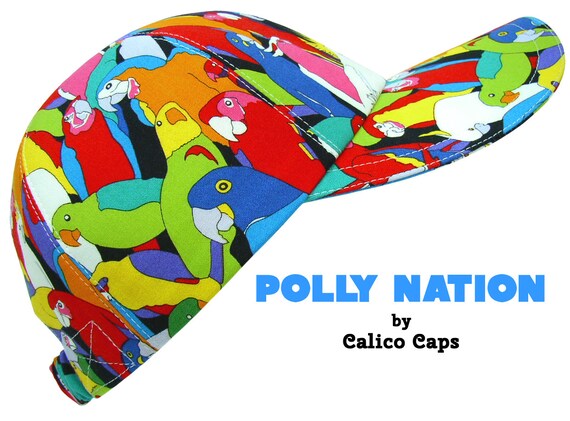 Handmade in USA in 100% cotton fabric
Fabric is always pre-washed and pre-shrunk before cutting.
For best results: machine wash cold, hang to dry or machine dry on medium.
The classic 6-panel design is nicely rounded for a more flattering look and beautifully lined in a pretty white-on-white floral cotton print for lasting comfort. Single layers of interfacing on the dome pieces give Calico Caps a soft and comfortable shape. Decorative, detailed topstitching everywhere - reinforced at stress points - CALICO CAPS are made to last!

The brim gets its' firm but flexible shape from four layers of medium-weight interfacing. It is soft and flexible with no hard plastic like mens' caps. No hard plastic, cardboard or metal means CALICO CAPS are machine washable too and that's a big plus. The underside of the brim is the same fabric as on top.
Unique to CALICO CAPS, the adjustable combination velcro/elastic back closure is encased in the same cloth as the cap and lets you adjust the sizing to plus/or/minus one inch while the elastic comfortably hugs your head at any setting. Opening in back for your ponytail.
EVERYDAY SHIPPING DISCOUNT - One flat rate ($4) ships as many caps as you like (per order/per address) MIX & MATCH - NO LIMIT!
FREE Upgrade to Priority shipping when you purchase 4 caps!
Even more information is available in the sidebar/info. section of my eBay Store.
Items must be returned within 14 days .
Refund will be given as Money back.
Refund policy details:
I can send fabric swatches if you're trying to match an outfit or if you're unsure of the color. RETURNS: Accepted 14 days from date of sale. MUST be returned w/tags in original box and/or bag. Refund for amount of purchase only. Buyer pays all S&H charges to return item. Please let me know when you return an item so I can make sure to keep funds in my PayPal account for a prompt refund. In many cases Seller will cover cost to ship exchange item but can not refund initial or return S&H.
Destination: United States

USPS
First-Class Mail®
$4.00
$0.00
USPS
Priority Mail®
$7.00
$0.00
USPS
Express Mail®
$33.00
$0.00

Destination: Canada

USPS
First-Class Mail Intl®
$15.00
$0.00

Destination: Europe & United Kingdom & Germany & Asia & Japan & Australia

USPS
First-Class Mail Intl®
$22.00
$0.00
Type
Instructions to Buyer
Paypal
EVERYDAY S&H DISCOUNT - Only pay S&H on the 1st hat (per order/per address). If you encounter difficulties getting your shipping discount please contact me and I will send an adjusted invoice. Thank you for shopping Calico Caps!
Search Product