This style is called "Mary's Mottos"..... A familiar print featuring Mary's favorite sayings; "That's What Friends Are For", "Princess of Quite A Lot", "Nurture All You Love", "Time For Tea", "Home Sweet Home", "Home Is Where The Heart Is" and others. You'll see her very popular Scotty Dog, tea cups & kettles, comfy chairs, watering cans, hearts, cherries and flowers. The "Too Cute" Scottish Terrier is featured in front. I used the same red cherries on black background print for the underside of the brim and it came out so cute. Red top-stitching, red double-faced satin ribbon for the bow - it's shiney on both sides and can be cut/trimmed without fraying. Black grosgrain band on the white-on-white floral print cotton lining.
Packaged in a glossy white gift box.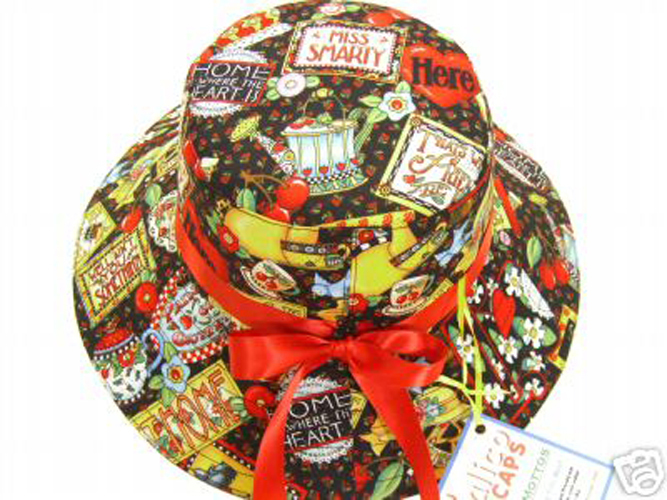 Meticulous handmade quality!
Fabric was pre-washed and pre-shrunk before cutting so the hat has done most of its' shrinking already.
Machine wash cold, hang to dry for best results.
SIZE: Ladies - One Size Fits Most
Cool and comfortable, fresh and fashionable. The brim has decorative Trapunto stitching for a firm but flexible drape that elegantly frames your face - no wires, plastic OR cardboard here. Create many styles with the flip of the brim. The double-faced satin ribbon is shiney on both sides and can be cut/trimmed/shortened without fraying. It is not permanately attached but held in place by one little belt-loop at the back. This way you can use a different color ribbon, a chiffon scarf, or choose no ribbon at all. On a windy day just tie the bow a little tighter.
Sized a bit larger than my baseball caps (to be very comfortable and not smash your hairdo) this floppy hat has an inner circumferance of 22 15/16" fitting a range of 22" - 23 1/2" very nicely. The brim measures 3.75" narrowing to 3.25" in back. The bucket, or top part of the hat, is 3.75" deep. They are cut on the bias to give them a bit of flexibility, but not an elastic "stretch".
Such a pretty and functional fashion accessory! ************************
EVERYDAY SHIPPING DISCOUNT - One flat rate ships as many hats as you like (per order/per address) MIX & MATCH - NO LIMIT! - Higher S&H prevails when mixing floppy hats with baseball caps