SALE - "Ladybug Blue" - Red Lady Bug White Daisies Ladies Floppy Wide Brim Cute Sun Hat

HALF PRICE END OF SUMMER SALE! was $50...NOW ONLY $25

Condition: New With Tags

Price:

$25.00
This style is called "Ladybug Blue" .... Bright red ladybugs, white & yellow daisies and tiny white polka dots scattered on a chambray blue background. A great blue-jean hat. Matching blue topstitching, bright red double-faced satin ribbon for the bow - it's shiney on both sides and can be cut/trimmed without fraying. Blue grosgrain inner band on the white-on-white floral print cotton lining.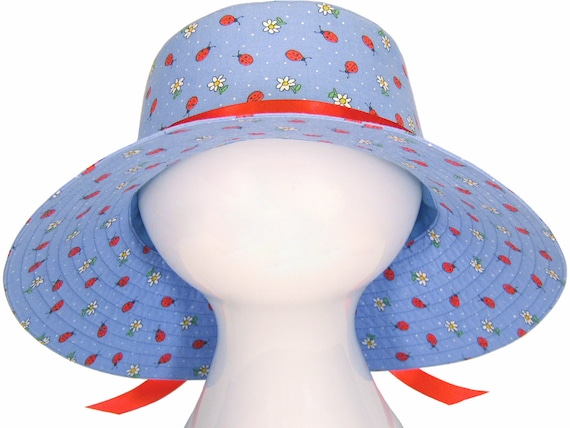 Packaged in a glossy white gift box.
Meticulous handmade quality!
Fabric was pre-washed and pre-shrunk before cutting so the hat has done most of its' shrinking already.
Machine wash cold, hang to dry for best results.
SIZE: Ladies - One Size Fits Most
Cool and comfortable, fresh and fashionable. The brim has decorative Trapunto stitching for a firm but flexible drape that elegantly frames your face - no wires, plastic OR cardboard. Create many styles with the flip of the brim. The double-faced satin ribbon is shiney on both sides and can be cut/trimmed/shortened without fraying. It is not permanately attached but held in place by one little belt-loop at the back. This way you can use a different color ribbon, a chiffon scarf, or choose no ribbon at all.
Sized a bit larger than my baseball caps (to be very comfortable and not smash your hairdo) this floppy hat has an inner circumferance of 22 7/8" fitting a range of 22" - 23" very nicely. The brim measures 3.75" narrowing to 3.25" in back. The bucket, or top part of the hat, is 3.75" deep. They are cut on the bias to give them a bit of flexibility, but not an elastic "stretch".
Such a pretty and functional fashion accessory!
************************
EVERYDAY SHIPPING DISCOUNT - One flat rate ships as many hats as you like (per order/per address) MIX & MATCH - NO LIMIT! - Higher S&H prevails when mixing floppy hats with baseball caps.
Items must be returned within 14 days .
Refund will be given as Money back.
Refund policy details:
I can send fabric swatches if you're trying to match an outfit or if you're unsure of the color. RETURNS: Accepted 14 days from date of sale. MUST be returned w/tags in original box and/or bag. Refund for amount of purchase only. Buyer pays all S&H charges to return item. Please let me know when you return an item so I can make sure to keep funds in my PayPal account for a prompt refund. In many cases Seller will cover cost to ship exchange item but can not refund initial or return S&H.
Destination:United States
Calculate cost
Destination: Canada
USPS
First-Class Mail Intl®
$15.00
$0.00
Destination: Worldwide
USPS
First-Class Mail Intl®
$22.00
$0.00
Type
Instructions to Buyer
Paypal
EVERYDAY S&H DISCOUNT - Only pay S&H on the 1st hat (per order/per address). If you encounter difficulties getting your shipping discount please contact me and I will send an adjusted invoice. Thank you for shopping Calico Caps!
$0.00(Domestic)
$0.00(International)
Search Product